Diamond Cutting Discs for Ceramic Tiles
Diamond Cutting Blades for Ceramic Tiles
Diamond cutting discs are used in cutting of ceramic tiles, big slabs or tiles to reduce the larger sizes to desired dimensions. It can also be used in mosaic production. Diatex offers special discs designed for pre-cut,  speedy cut, porcelain tile cutting, continuous rim cutting, pool tile cutting and green tile cutting.

Diamond Cutting Discs with Sandwich Technology
A diamond blade is made of a steel core and the diamond segments specifically designed for the material to be processed; the segment welded on the tool comes from a set of powders (diamond and bond), which are sintered, becoming a compact and rigid element, suitable for welding on the core and for rectifying to obtain the final dimensions.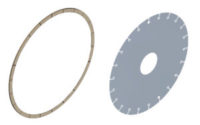 The Diatex blades made with the Sandwich technology integrate, in the segments process, different grits to allow an excellent finishing degree and a high cutting speed; specifically, the segment consists of three different parts: 2 side parts, with fine grit, designed to ensure an excellent finishing on the edge of the slab, 1 central part with coarse grit, useful to give higher cutting capacity to the blade. The blades manufactured with Sandwich technology are currently used in Ceramics and in the processing of big ceramic slabs.